More info
Description: This ULN2003 Stepper Motor Driver Board use the ULN2003 Darligton Array to drive a 4-phase 5-wire stepper motor (5v-12v). The board is easy to use with an Arduino or other development platforms.
The output of each darlington pair is 500mA. Each pair can also be operated directly with TTL or 5V CMOS devices. This driver IC can be used for high voltage applications up to 50V. You can use this board to control our Small Reduction Stepper Motor or other stepper motors or DC motors.
The Arduino website has a short tutorial on Controlling a Stepper motor with some example code. Adafruit has a detailed tutorial on controlling a stepper from a Darlington array.
Features:
7 Channel Darlington Array

Can sink up to 500mA (600mA peak)

Max Output voltage: 24 V

Integrated suppression diodes for inductive loads

Outputs can be paralleled for higher current

TTL/CMOS compatible inputs
There is also a jumper to switch the board power supply. This is useful if you plan to use this board to control a stepper motor that requires higher voltages to operate.
Note: These ICs generate heat even during normal use, use a proper heat dissipator if your IC is getting to hot.
Schematic & Datasheet: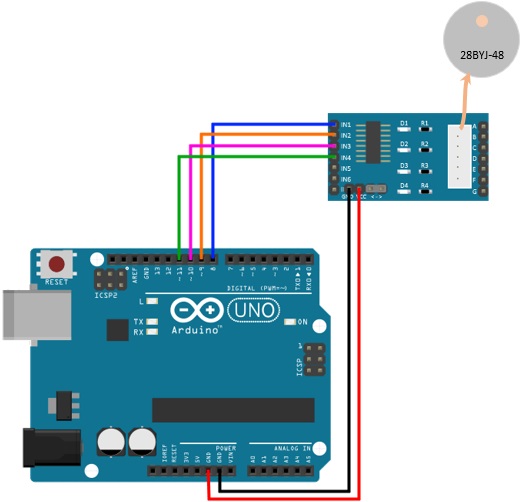 Code:
/*
 Stepper Motor Control - one revolution

 This program drives a unipolar or bipolar stepper motor.
 The motor is attached to digital pins 8 - 11 of the Arduino.

 The motor should revolve one revolution in one direction, then
 one revolution in the other direction.


 Created 11 Mar. 2007
 Modified 30 Nov. 2009
 by Tom Igoe

 */

#include <Stepper.h>

const int stepsPerRevolution = 200; // change this to fit the number of steps per revolution
// for your motor

// initialize the stepper library on pins 8 through 11:
Stepper myStepper(stepsPerRevolution, 8, 9, 10, 11);

void setup() {
 // set the speed at 60 rpm:
 myStepper.setSpeed(60);
 // initialize the serial port:
 Serial.begin(9600);
}

void loop() {
 // step one revolution in one direction:
 Serial.println("clockwise");
 myStepper.step(stepsPerRevolution);
 delay(500);

 // step one revolution in the other direction:
 Serial.println("counterclockwise");
 myStepper.step(-stepsPerRevolution);
 delay(500);
}