 
Micro Metal Gearmotor 0.9A - 150:1
Política de segurança

Política de entrega

Política de devolução
This motor has a 10mm D-shaped metal output shaft that matches the 3mm wheel-motor adapter. The brass faceplate has two mounting holes threaded for M1.6 screws (1.6 mm diameter, 0.35 mm thread pitch), or you can use the mounting bracket or extended mounting bracket, which are specifically designed to securely mount the gearmotor while enclosing the exposed gears. We recommend the extended mounting bracket for wheels with recessed hubs.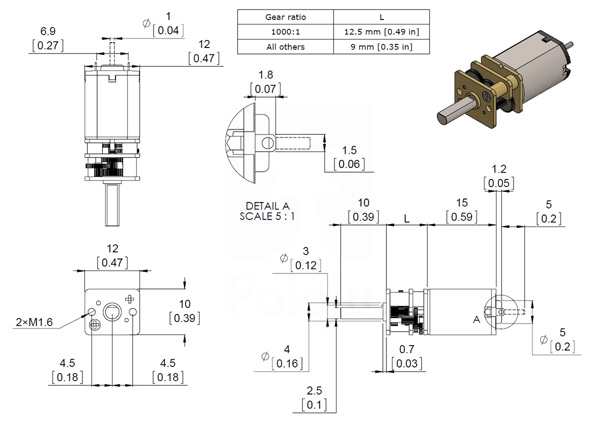 Features:
Gear Ratio: 150:1
No-Load Speed 146rpm @ 6V
50mA Rated current @ 6V
Stall Current: 900mA@ 6V
Rated Torque 1.7 Kg.cm @ 6V
DC Reversible
Dimensions:
Motor Size: 26 x 12 x 10mm
Shaft Size: 3mm Diameter x 10mm Length
Weight: 9.5g
No customer reviews for the moment.
Customers who bought this product also bought:
No Battery
The RTC maintains seconds, minutes, hours, day, date, month, and year information. The date at the end of the month is automatically adjusted for months with fewer than 31 days, including corrections for leap year. The clock operates in either the 24-hour or 12-hour format with an active-low AM/PM indicator. 
Related
Products